Have you planned your business goals for 2020?
For the past two years, Green Clock has taken a few days off in December for a company getaway, where the whole team has a chance to reflect on the past year. What did we do that we really liked? What are some learning moments we had? What are things we all learned that we can take into the new year? After reflecting, we have a brainstorm session with the goal of figuring out what we want our upcoming year to look like: What are our main goals? Are we all in our sweet spots? How can we be more efficient? How can we continue to scale the business ? And of course, we always leave a little time for some fun culture building activities! This year, we made a vision board, check out a sneak peek below!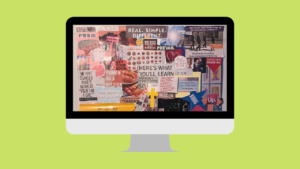 If you haven't had time to do a company getaway, at least ask yourself these few questions to get started on how you want your business to go in 2020:
What is the biggest lesson learned in 2019 and how can I relate that to 2020?
It's always a good idea to reflect on the lessons that were learned – some may call them mistakes or failures, but we believe every 'mistake' can have a positive takeaway. How are you going to take what you've learned and apply that moving forward? It's like Zach, our CEO, always says – if you fail, fail fast.
Review your company's mission / vision statements. Do they still apply 100% or do they need to be worked on?
Over the years, your business is bound to change a little, so it's good to revisit those big blanket statements like your mission & vision to ensure they still align with your company.
What are some innovative ways to grow the business?
It's time to think outside the box and do something you haven't done yet! Can you guess some of the things we'd recommend? Ready or not, here they come! Here are our top 2 suggestions for 2020:
INCORPORATE VIDEO
Incorporating video is a great option to boost your business in the new year. Of course, there are countless options to choose from depending on your goals, budget and type of business – but we promise, you won't regret bringing video into your business. Maybe you're a services-based company – testimonial videos would do wonders to get the word out about how awesome your company is. Or, maybe you're a product-based company, in which case a demo video might be a good idea to show your audience how to use your product. 
ONLINE ADVERTISING
Everything is online and on social media, which means lots of eyes are ready to watch a video from your business! And on YouTube, you can get a view for as little as $.02! Video ads are great for brand awareness if you're just starting out, and as the market gets more familiar with you, it's also great for website traffic and eventually conversions. 
We'd love to talk with you about some ideas and options on how you can incorporate video into your business.
Reach out today to start the conversation. 
hello@greenclockagency.com
608.807.1109